Brogues have been a fashion trend for women for a couple of years now. Since then, they've evolved from a basic flat shoe, found in simple brown or black, to one that can be found in all manner of patterns, colours and heel heights. They are practical and comfortable, and a great alternative to a ballet pump. Unless one is deliberately going for a mannish style, they work best when paired with more feminine outfits such as a floral tea dress, pretty skirt or cropped trousers.
I think
these Galaxy Oxford brogues
from online boutique
Free People
are a great version of the trend. The fact that they're pastel and patterned counteracts the absolute masculinity of the traditional style; this means that they will balance well with most outfits, even if they aren't super-feminine. So I'd not only wear them with skirts and dresses, but jeans too. These shoes are leather and great quality, and were £158 - but have been reduced in the sale to £99.95 (with free shipping) and are the cheapest I can find on UK sites online.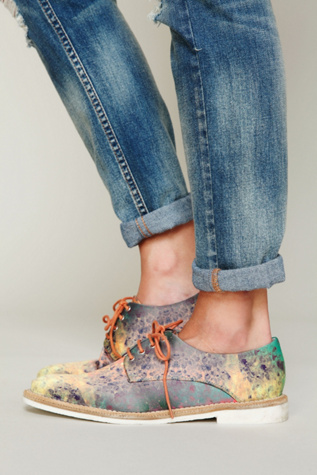 What do you think about brogues? Too mannish, or a practical, trendy and comfortable way to get through the day? Let me know in the comments below!